If you are a frequent traveler then you might know how hard is to communicate with people speaking different languages. Back in the days, people used to carry a tiny dictionary that contains commonly used words and phrases. But nowadays, people prefer to use translation apps that make things easy. All you have to do is simply use the app and you could communicate with any people speaking any language. You are no longer required to carry translation books or dictionaries.
With the help of translation apps, you can easily translate anything from any language to any other language. There are some apps in which you are not required to type anything. All you have to do is simply speak the content in your own language to the app and then the app will speak back in the selected language. This way, you can easily communicate with anyone.
In this list, you will find the list of best offline and online translation apps that works without any issue. Sometimes when we visit a new country, the Internet might not be readily available, in this case, we will need offline translation apps. For this reason, I have included some offline translation apps as well. You can find them for Android as well as iOS.
1. Google Translate
When it comes to translation, nothing can beat Google Translate. Google Translate is the ultimate solution for all your translation related needs. It supports almost all platforms including PC, Laptop, Smartphones, and Web. Google Translate has a mobile app that is available for both Android as well as iOS.
As of now, Google Translates supports 109 languages, of which 59 of them support offline translation. It supports multiple types of language translation like text-based, online translate option, camera-based translation, translate from images or photos, handwriting, and more. If you are specifically looking for offline translation feature, then see if both the languages you are looking for is present in the list of supported 59 languages or not.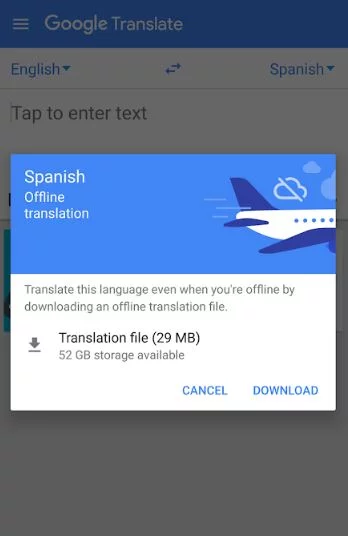 I personally use Google Translate for all my works and it works flawlessly without any issue. If you have the internet you are not even required to download the app as the web version is more than enough.
Google Translate: Android | iOS
2. Microsoft Translator
Microsoft Translator comes second in the list with support for over 60+ languages globally. Similar to Google Translate, it supports multiple modes of translation like text-based, voice, photo, conversation, screenshots, etc. Microsoft Translator can also be used as an offline translator app as it works even without the Internet. Make sure you download the language pack.
Multi-person conversation translation option in the apps let you have an in-person conversation with up to 100 people. You also have the option to save the most used and common phrases and words for quick access.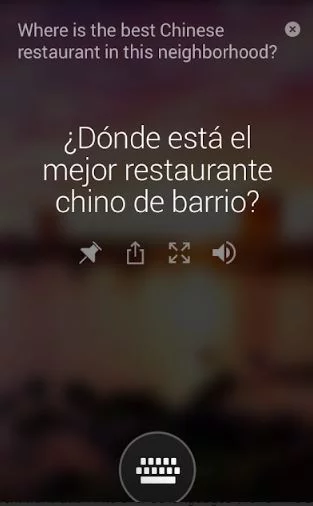 Overall, if you are looking for a great translation app with support for a good number of languages, multiple modes, and offline translation, Microsoft Translation is a good option.
Microsoft Translator: Android | iOS
3. Papago
Papago is an AI Translator which helps you to translate between 13 languages. As of now the app only supports a small number of languages. But does a great job of translating these languages. Korean, English, Japanese, Chinese (Simplified/Traditional), Spanish, French, Vietnamese, Thai, Indonesian, Russian, German, and Italian are the languages currently supported by the app.
You can do text translation, voice translation, image translation, and a lot more. There is an option called Handwriting translation which corrects the word and then convert it. The built-in dictionary also helps you in times where you need to find meanings of words that you are not familiar with.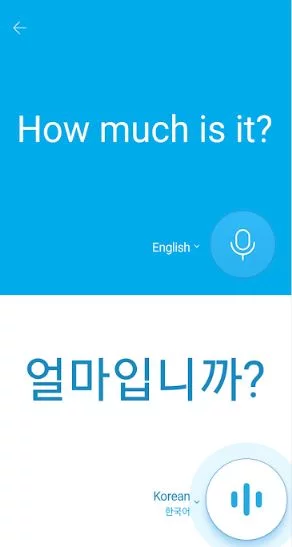 Offline translation is available in this app, so don't worry, if you are not connected to the Internet, Papago got you covered.
4. iTranslate Translator
iTranslate supports more than 100+ languages. You can translate in and out from pretty much every languages out there. One thing I liked the most is the AR translation mode. This is something not seen in many apps and this is one of the unique reasons you might want to consider trying this app.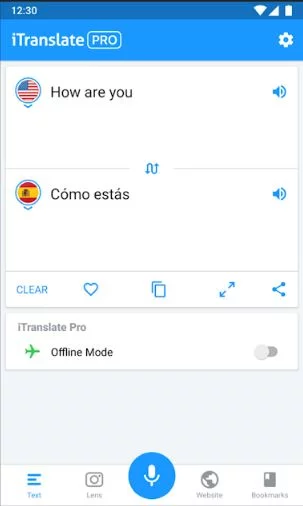 While using AR translation mode, all you have to do is just hold the camera against an object and get real-time translations on the screen. As easy as that. The pro version of the app supports offline translation which works without the Internet.
5. SayHi Translate
This app is good for people who are looking for a simple translation app that gets the job done. When compared with other apps in the list, you might miss some features. It is an online-only translator app available for both Android as well as iOS.
Sadly offline translation option is not available in this app. You need an Internet connection to use the app, so if you are looking for an offline translator then you should go with some other app on the list. The app support all modes of basic translation with male and female sound options.
6. Translate Now – Translator
Translate Now is an amazing translator app available especially for apple devices only. It supports iOS, iPadOS, Apple Watch, and iMessage. Translate Now is a feature-rich app and gets almost all required features. The conversation mode in the app helps you to have a conversation with people in realtime using the app. Use this method if you don't want to struggle typing the text and then translating.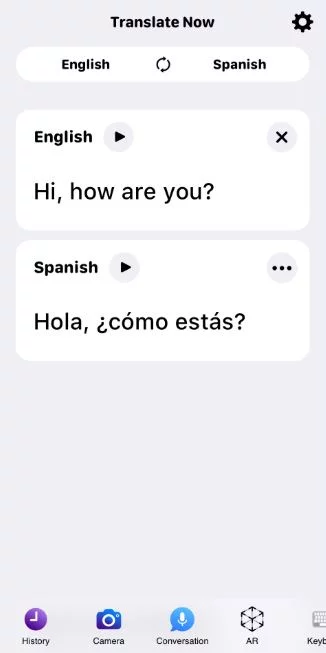 AR Translation feature is also available on this app. At the time of writing this article, Translate Now support over 60+ languages. Dark Mode, Phrasebook, Siri shortcut, iMessage support, Camera translation, and translation widgets are few other highlighted features of the app.
Translate Now: iOS
These Translation apps will be more than enough for you. I managed to include both offline translation app as well as online translation apps. The best part of using an offline translation app is that you are not required to connect to the Internet. Chances are when you visit a new country, the Internet might not be available. In this case, offline translator apps come handy.
Special features like AR Translation makes translating much easier. You can simply point your phone's camera to literally anything and it will automatically translate everything in real-time. Also, take a look at some apps for scanning documents with your smartphone that might come handy in some situations
Best Translation Apps for Android and iOS – Offline and Online
1) Click the share button and share it
(2) Join our Telegram Channel HERE 
(3) Follow us Twitter, Instagram, Google plus, Facebook page
(4) Download Android & Ios App HERE